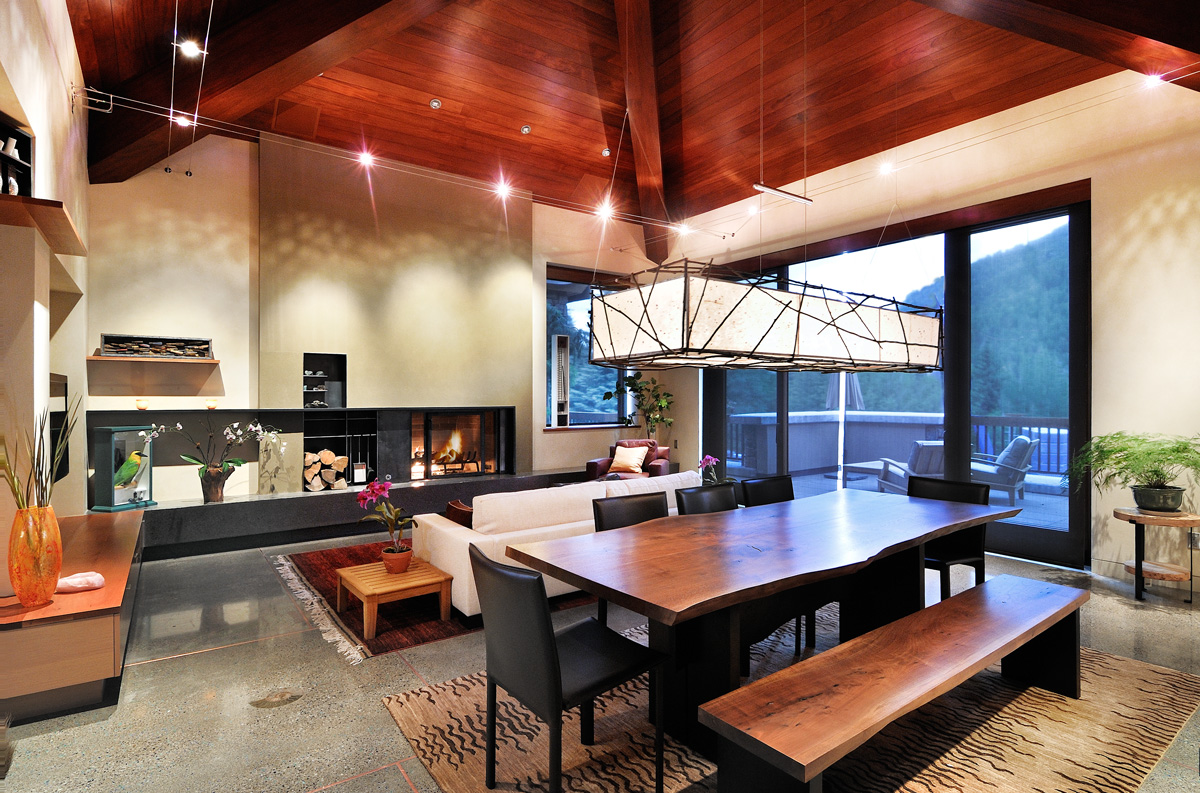 With limited natural light, the challenge for this three-story vacation townhome—nestled into the Ketchum, ID, mountainside—was to create a warm, modern interior that would integrate with the existing stone-clad regional architecture. For warmth in both look and feel, the main level features articulated radiant-heated concrete floors with inlaid stones, fossils, and copper strips.
The fireplace hearths in the Great Room and Master Bedrooms were site-cast using the CHENG Geocrete finish method, while some fireplace surrounds were made with pre-cast concrete panels that feature a "wood-board" effect creating a textured, three-dimensional look.
Green materials were used throughout the project including no- or low-VOC paints and sealers. The kitchen flooring and wood wall panels are renewable bamboo; cabinets were made with composite wood veneers which reduce wood waste. The plasters are all natural, artisan quality and the fireplaces are clean-burning, ethanol fireboxes. This mountainside home now offers finishes that add warmth and light while showcasing the majestic backdrop of the often snow-capped peaks.
---
Project Scope: Design of new, interior townhouse build-out including two Master Suites, Den, Entertainment Room, Great Room, Kitchen, Baths, Entry Hall
Project Size: 4,800 s.f.
Building Material Highlights: CHENG Pro-Formula, CHENG D-FRC, Turkish plaster, chrysoprase inlays, mosaic tiles, granite, raw steel, mahogany, bamboo, soapstone, polyester eco-resin
Pro-Formula Colors: Charcoal, Olive, Sand
D-FRC Colors: Brick, Stone
Project Location: Ketchum, ID
---
A CHAT WITH FU-TUNG
This project is in Idaho, how did this client learn about you?
This client is from the Bay Area and had seen a lot of our work published and had researched us. This is a second home for him and his family.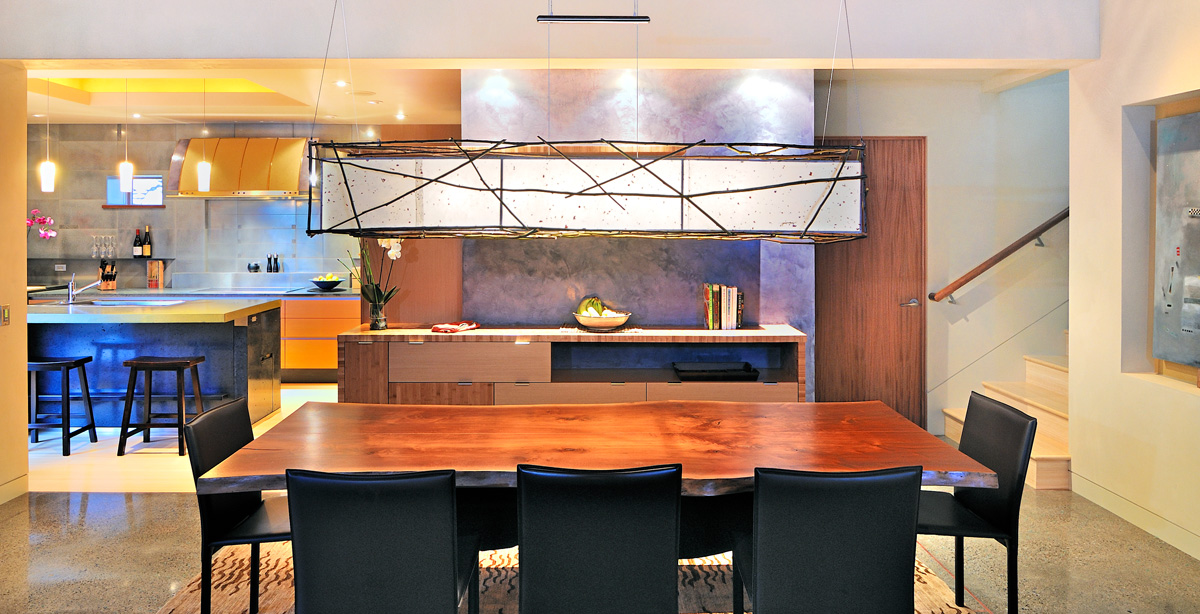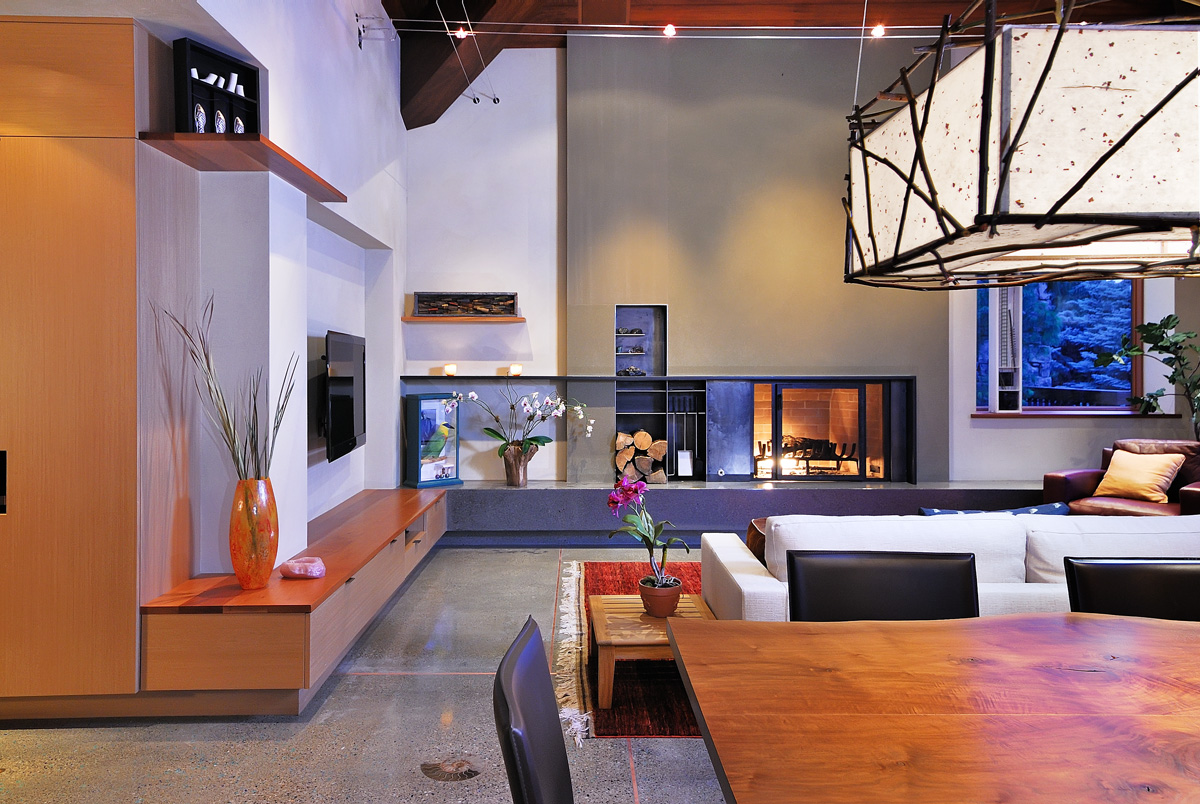 What was the design challenge you had to meet?
The building is one of four townhouse units that are literally nestled into the mountainside with beautiful views of the valley and ski slopes. Basically, our challenge was to create a more modern interior while integrating it with the character of the building architecture.
The townhouses were already under construction when CHENG Design was brought in and most of the walls and ceiling structure were already determined so had to work within already set architectural parameters. Most of the windows and daylight are only from the front of the building so some areas of the house don't receive any natural daylight. It was critical to use finishes that would add warmth and light, while reinforcing a sense of grounded mass against the backdrop of the mountainside.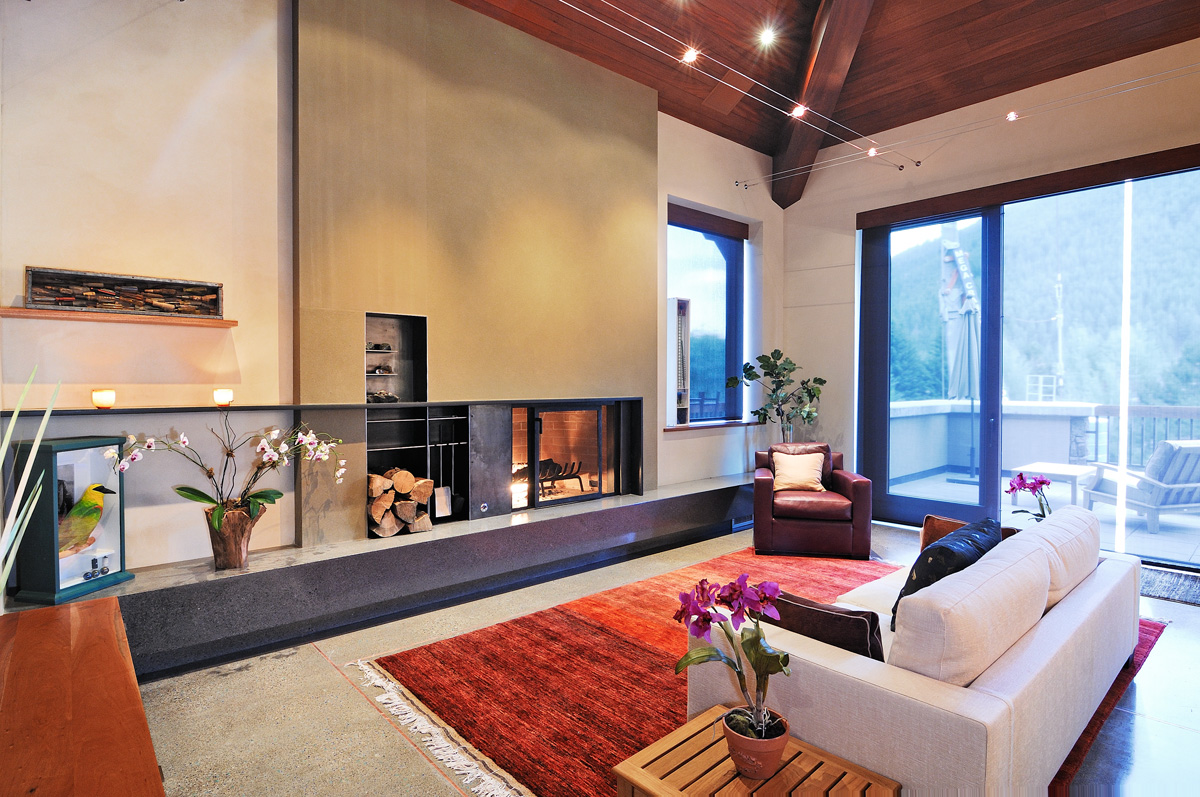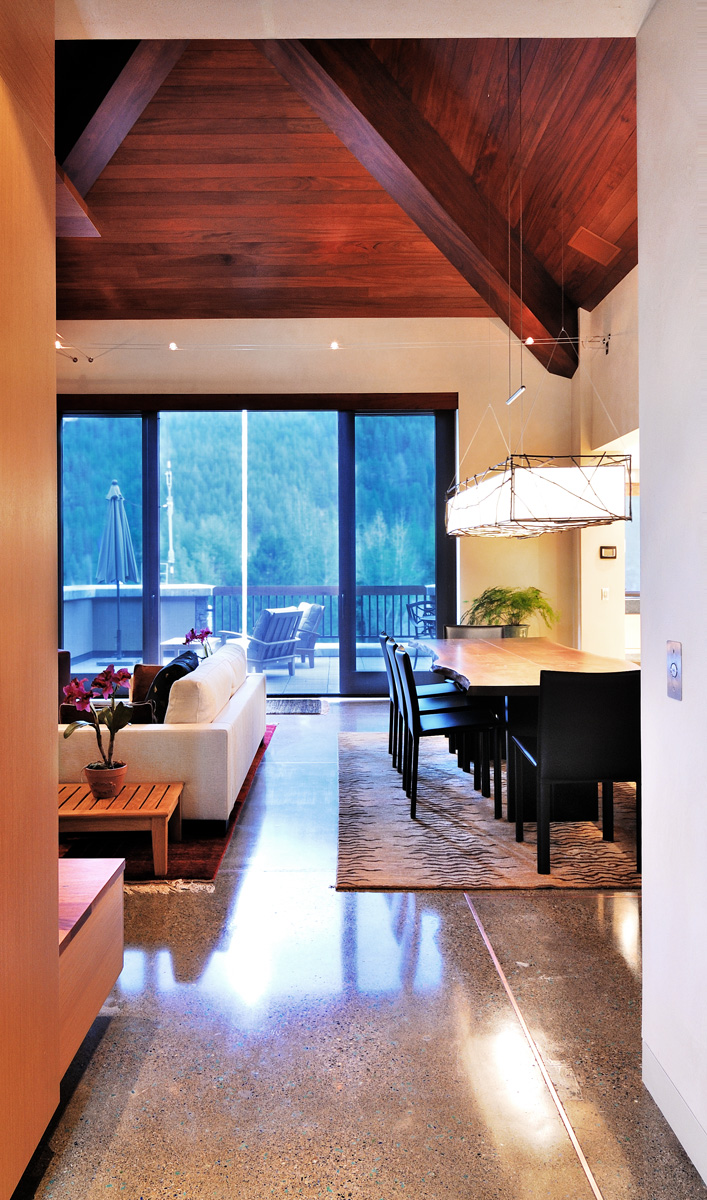 MATERIAL EXPERIMENTS: Creating Warmth + Texture
It seems that you experiment with something new—maybe a new material or technique—with every project. What was new here?
Well, I wouldn't say it was new, but both Master Bedrooms have a textured, dimensional fireplace surround of integral-colored glass fiber reinforced concrete with copper slate lining the firebox. We used our CHENG D-FRC product and were really happy with the results and the level of intricate detail it provided.
The technique of board-forming the fireplace isn't something new either, but it's something that we haven't done a lot in other recent projects. There's a lot of composition and design that really takes place at the mold-making level, of course, but I like that we showcased the technique at the two bedroom fireplaces, which are pretty grand and intricate as far as bedroom fireplaces go.
The recesses, the extrusions, the textures, the voids, the shadows, and the intricate detail of the wood grain and the motif inlaid into the form really pops from the concrete—it's actually pretty amazing the multi-dimensional quality that's created and the D-FRC product made it happen.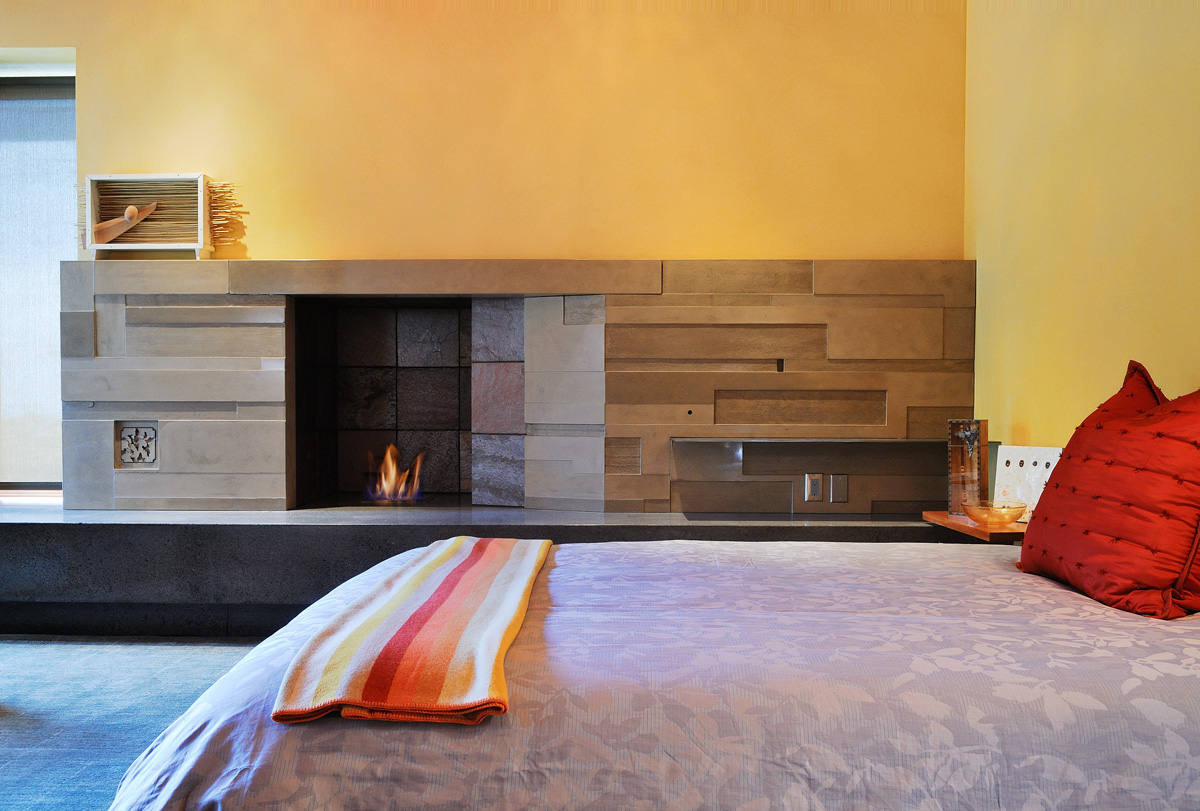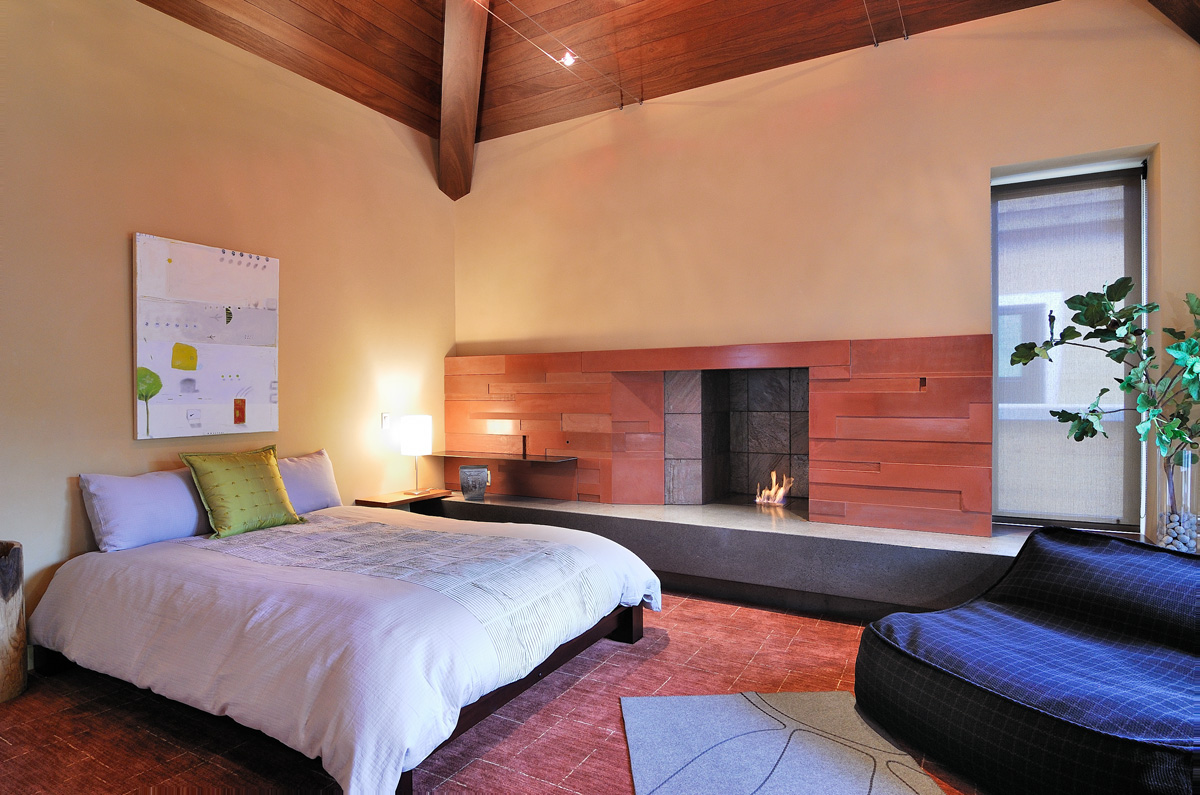 Besides concrete, how do you go about selecting the materials you use in a project?
With any project, including this one, there is an uncompromising attention to materials and finishes. We were asked to balance the modern with a slightly more traditional sensibility. Our approach was to use warm, earthy materials in a mix of smooth and textured finishes with clean, modernist detailing. Custom accents such as inlaid chrysoprase and mosaic tiles add an extra level of detail and scale often missing in modernist design.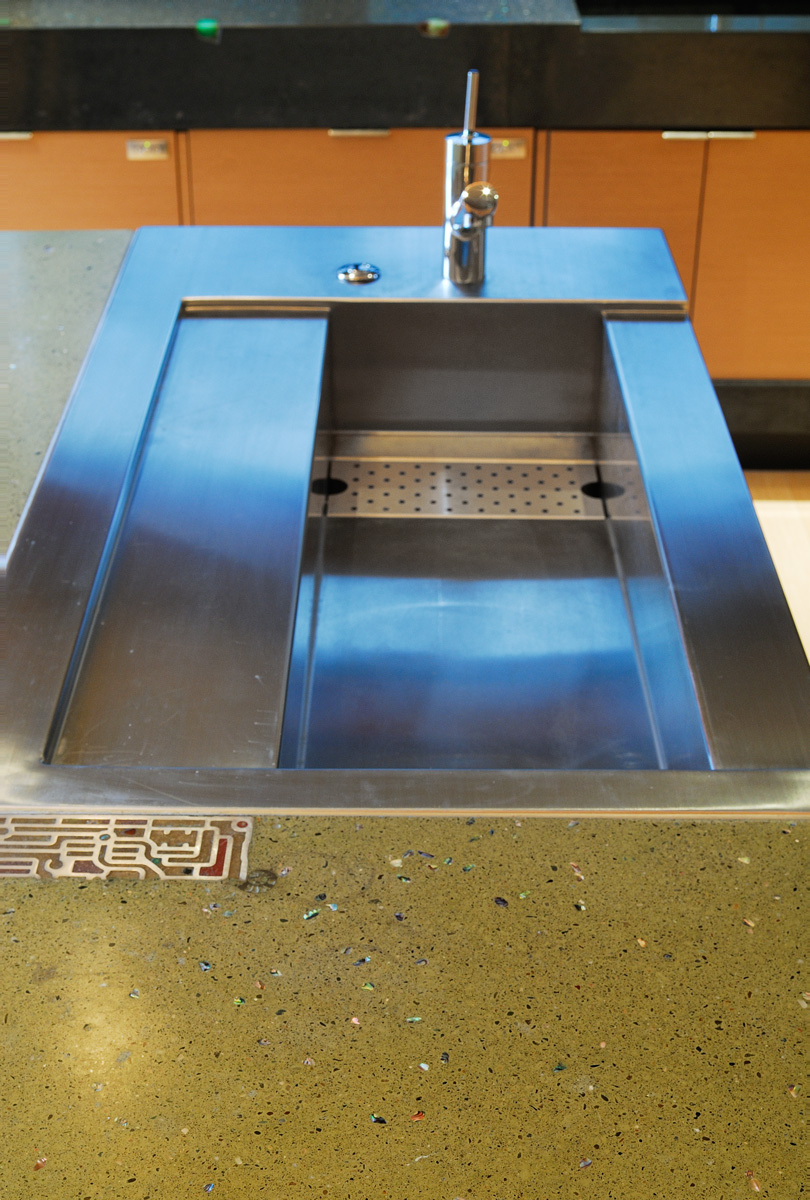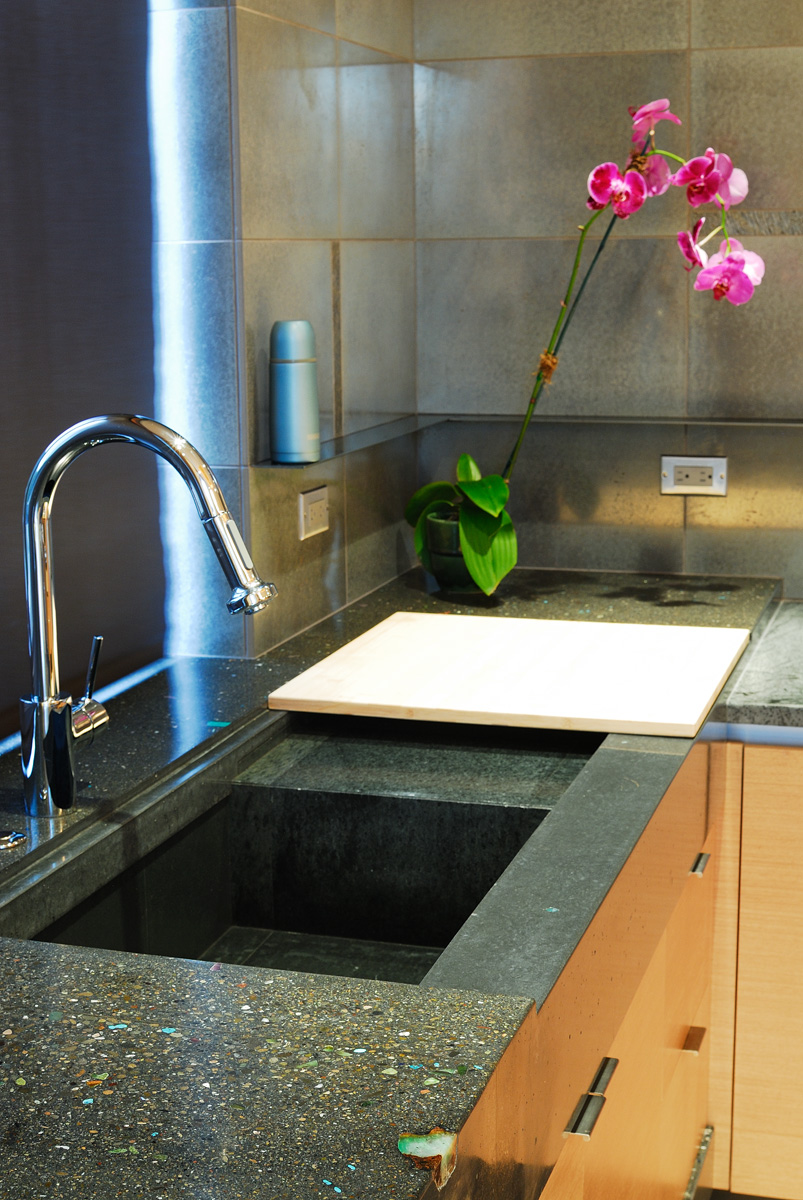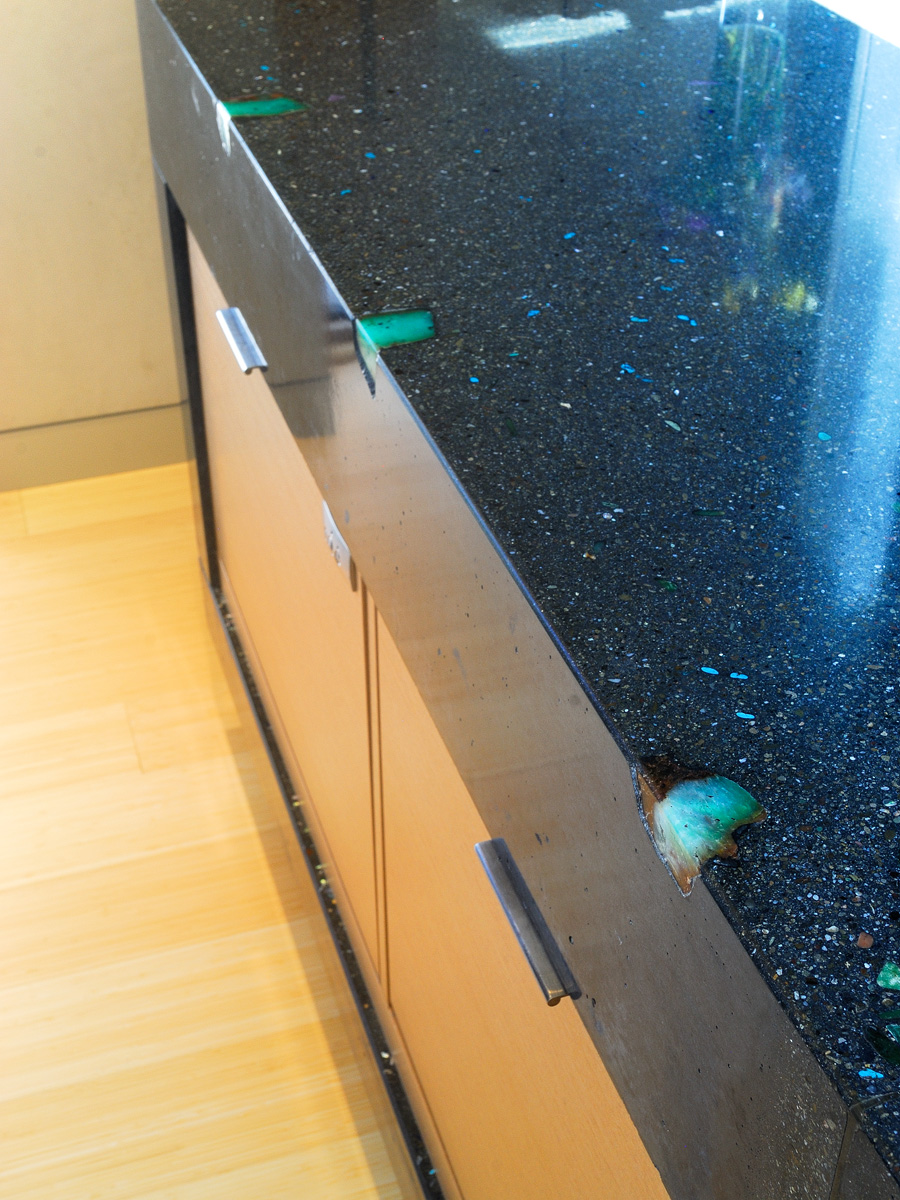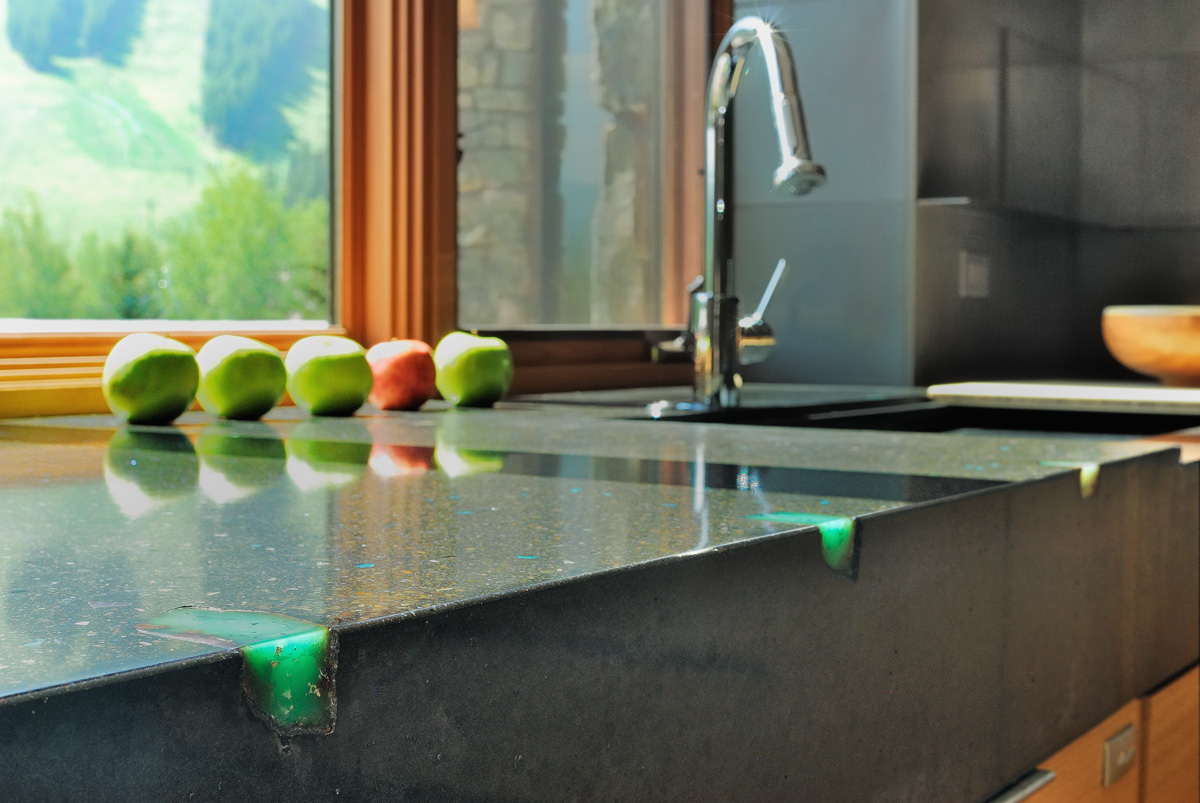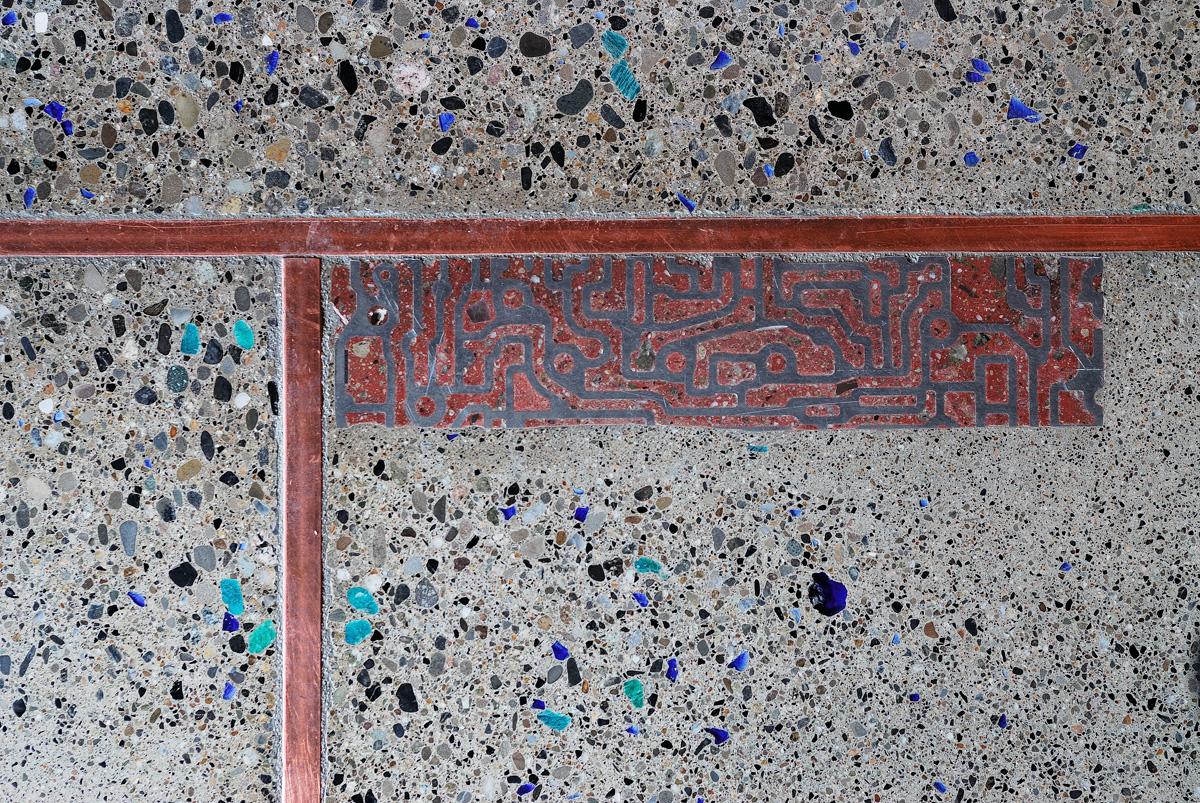 What was the take-away lesson from this project for you?
That your client relationship is Job One! I knew that already, of course, but it's always nice when it's reinforced on a project. The client was gracious and invited us to use the home—we have vacationed there twice! For a client to open up their home and allow you to enjoy the space that you've designed for them says a lot about the trust that was built.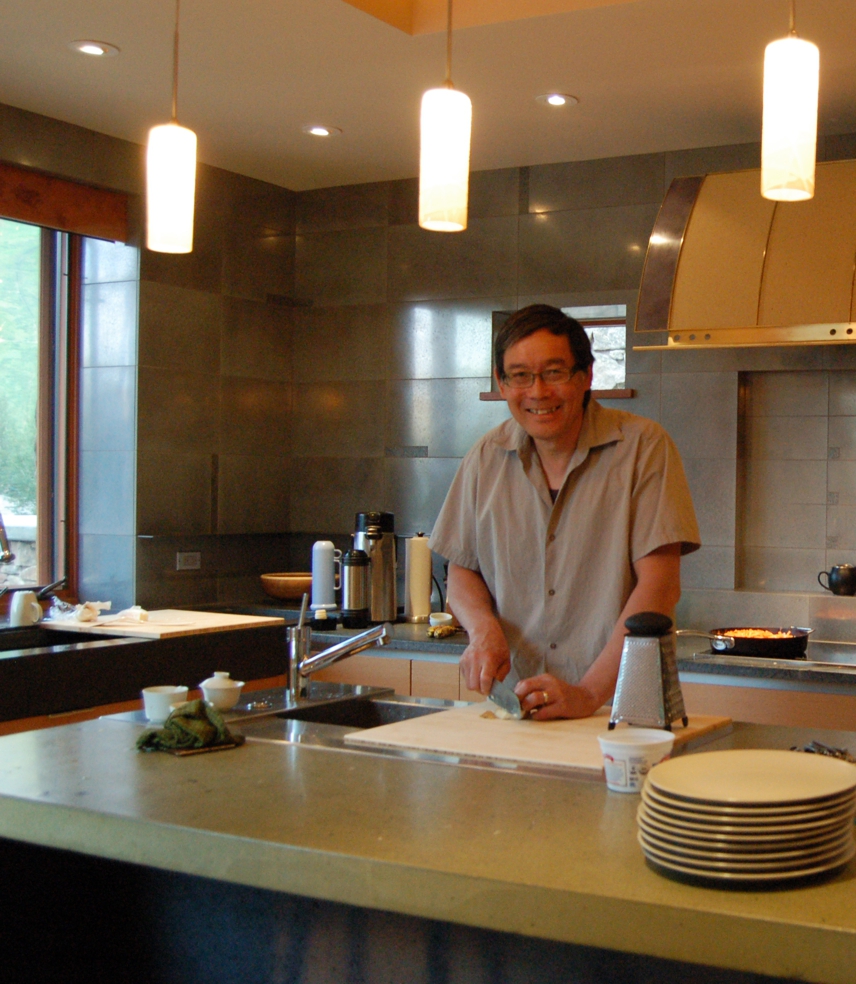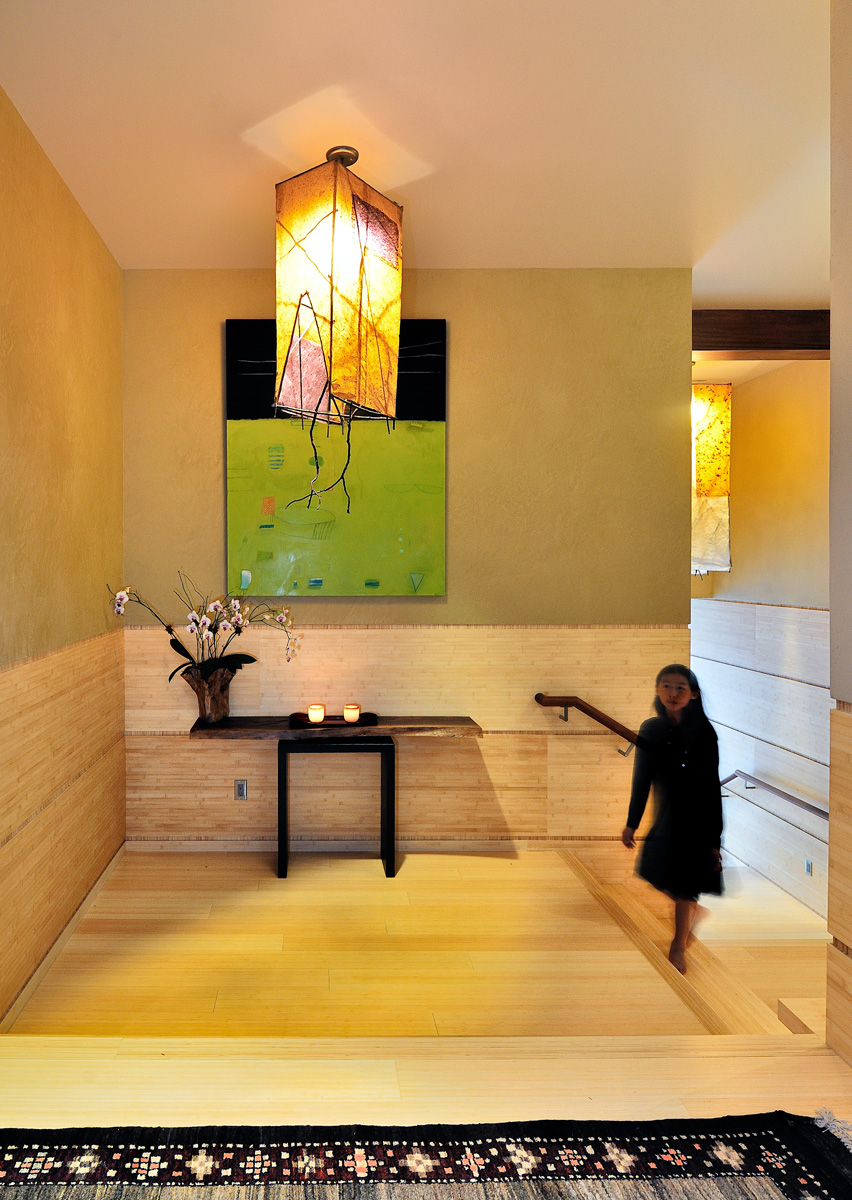 What's a design or technical tip you can share with others?
The client has engaged us to design another townhome in this development so we get to play with ideas we didn't get to incorporate the first time around. We'll even take ideas that we already implemented that worked well and give them a different flavour.
I'd say that the "tip" here is don't throw out ideas you've come up with during the design process. Bookmark them so you can revisit them after a project is completed and learn how they could've worked on the project or how to improve them for use on a future project.
Be green in everything you do, even with design ideas—recycle them if they can be improved, re-use them if it looks great and if they solve a particular problem or need. That's good design.