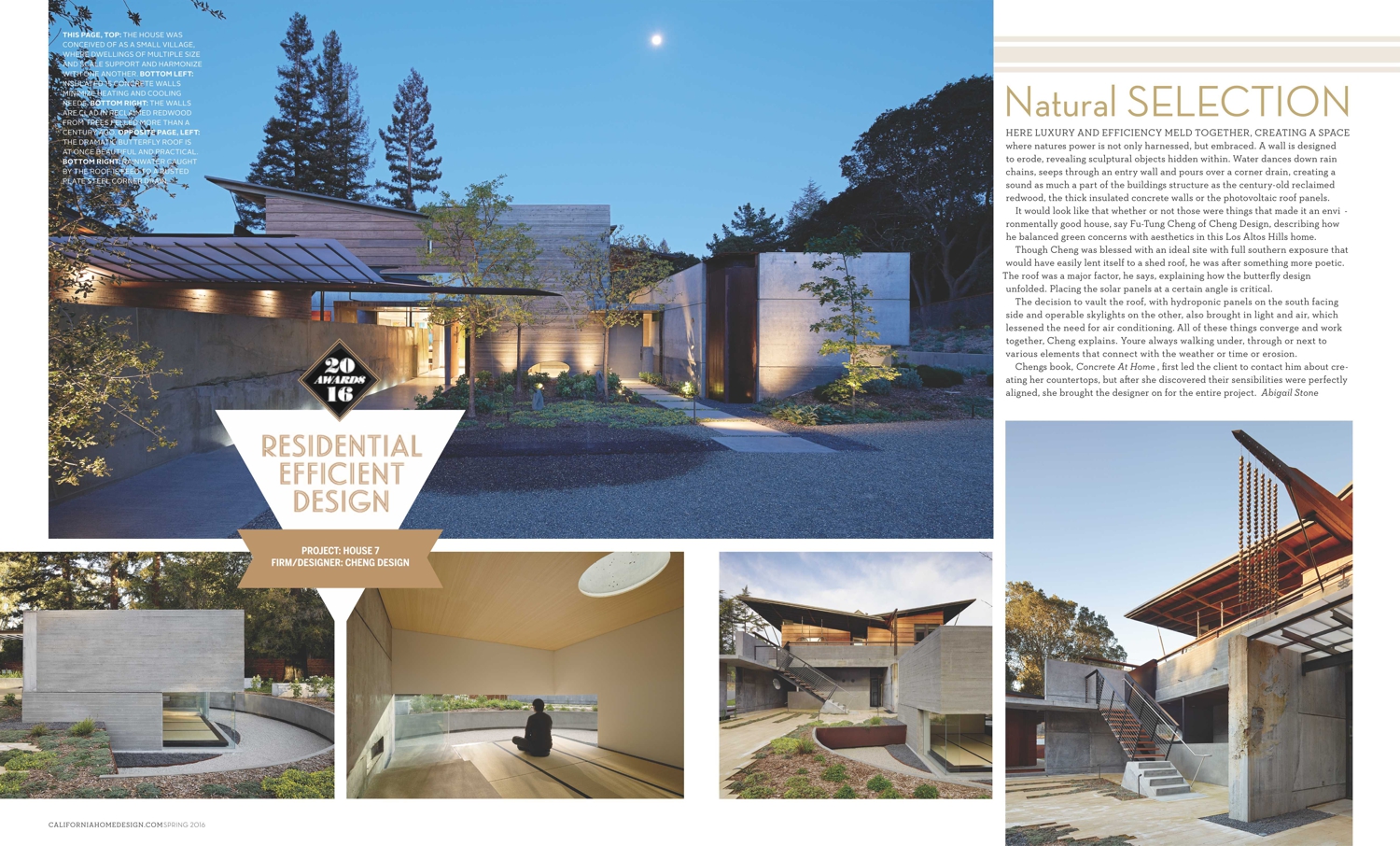 SPRING 2016
2016 Residential Efficient / Sustainable Design Award: Natural Selection
by Abigail Stone
EXCERPT:
In Cheng House 7, luxury and efficiency meld together, creating a space where nature's power is not only harnessed, but embraced. A wall is designed to erode, revealing sculptural objects hidden within. Water dances down rain chains, seeps through an entry wall and pours over a corner drain, creating a sound that is as much a part of the building's structure as the century-old reclaimed redwood, the thick insulated concrete walls or the photovoltaic roof panels.
"It would look like that whether or not those were things that made it an environmentally good house," says Fu-Tung Cheng of Cheng Design, describing how he balanced green concerns with aesthetics in this Los Altos Hills home.
Though Cheng was blessed with an ideal site with full southern exposure that would have easily lent itself to a shed roof, he was after something more poetic. "The roof was a major factor," he says, explaining how the butterfly design unfolded. "Placing the solar panels at a certain angle is critical."
The decision to vault the roof, with hydroponic panels on the south facing side and operable skylights on the other, also brought in light and air, which lessened the need for air conditioning. "All of these things converge and work together," Cheng explains. "You're always walking under, through or next to various elements that connect with the weather or time or erosion."

Cheng's book, Concrete At Home, first led the client to contact him about creating her countertops, but after she discovered their sensibilities were perfectly aligned, she brought the designer on for the entire project.